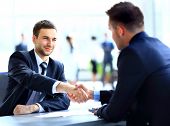 Many entrepreneurs have launched their small business with a loan from a parent, uncle, or any other relative willing and able to afford lending a small sum, and perhaps not getting their money back for many years. Not everyone has the means to do that, and that's why getting a small business loan from a bank is so important for many entrepreneurs, or even the small business owner already established.  Many analysts believe the lack of small business loans available to small business owners has decreased over the years, and the terms of the loans are not very favorable to the small business owner or entrepreneur.  Looking at different alternatives seems the only way for anyone looking for a loan to launch their business idea.
For more about this topic, follow the link below.
---
Four Smart Ways To Finance Your Next Big Idea Or Small Business
If you've ever wanted to start a business of your own, there's likely been one big hurdle getting in your way: getting the money to finance your big idea.
Fortunately, the internet has made this process a whole lot easier. In the mid-90s, I was able to self-fund my business through the first few dollars I made online, then kept scaling and putting money back into my business over time.
Like most online businesses, my startup costs were extremely low. But not all business models are created equal: Some may need more investment money and funding than others. To help with this process, I've listed four different ways you can start raising money or obtaining a financial loan for your next big business idea.
Pre-Sell Your Product Or Idea Before Launching
Wouldn't it be great if you could prove your model worked before starting your business? In the offline world, this is quite expensive and hard to accomplish. But on the internet, it's happening every day.
---
'Fintech' fast-cash loans are like 'wild west' for small businesses
If you run a small business, you're likely seeing a flood of offers for easy-to-get loans — through direct mail, pop-up ads, even TV ads — promising fast money to pay your bills or buy new equipment. But that new world of fast cash can come with some costly catches.
"It's been the wild west," said Karen Gordon Mills, co-author of a just-released Harvard Business School study exploring the promise and challenges of alternative small-business lending. The sector has exploded in the last few years as a new industry emerged, referred to as "fintech" (for financial technology).
Typically, to get a loan, a small-business owner needs to provide a bank with tax returns, personal and business financial statements and a pile of other documents and data.  "You have to wait weeks or months," said Mills, who co-wrote the report "Small Business Lending: Innovation and Technology and the Implications for Regulation" with Brayden McCarthy.
Moreover, there's been a persistent "credit gap" — a dramatic lack of funds available for small businesses needing smaller amounts of money, less than $250,000.
---
Here Is What Small Business Needs From the Trump Administration
The nation's 28 million small businesses and tens of millions of self-employed freelancers need a voice the President will listen to.
As President-Elect Trump is busy at work filling his Cabinet positions, the one area that may be among the most important, but is among the least talked about, pertains to small business.
Small business and entrepreneurship are at the center of creating jobs and growing the economy, which are key pieces of Trump's stated focus. While previous presidents, including President Obama, have raised the Administrator of the Small Business Administration to a Cabinet-level position, Trump should continue his out-of-the-box thinking and make a small business Cabinet position even more front and center in his own administration.
As a leading small business advocate for the greater part of the past decade, I've identified several key areas that Trump's appointee should be able to navigate in order to add full value to the administration, as well as the 28 million small businesses (and tens of millions of freelancers) currently at the center of our economic engine.
---