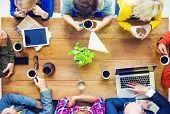 Today is Election day.  With the uncertainty in the economic climate of the United States, and the global economy, people cannot not participate in this election.  We have choices, and for better or worse as United States citizens, we have a constitutional right to vote. Indecisiveness does not help the economic climate, nor your small business. The small business policies the next president will institute in this country affects us, and the economy.  Think about it. Go Vote!
---
Survey: Small business owners worried about election impact
Small business owners are concerned about the impact the election could have on their companies but hold mixed views of how supportive the candidates are on different issues, according to a survey by researchers at Pepperdine University.
In the survey done by the Graziadio School of Business and Management, more than three-quarters said they were concerned about the election effect, with about half of those considering themselves very concerned.
Between the two candidates, 66 percent of the more than 1,350 business owners surveyed said Republican Donald Trump was more supportive on tax issues. Sixty-four percent called Trump more supportive on regulatory issues. When asked about equal pay for male and female workers, 59 percent said Democrat Hillary Clinton was more supportive. Fifty-eight percent said Clinton was more supportive of family leave.
The survey covered randomly chosen companies in Dun & Bradstreet Corp.'s database that had annual revenue of $5 million or less.
---
Indecisiveness Can Be Costly To Small Business Owners: Here's How To Fix It
Major bottlenecks in businesses are often caused by indecision. It could be that a business owner is waiting on more data before making a decision on a big ticket purchase. They could be too busy to stop and make up their minds on something that needs to be done or perhaps they're easily distracted by new options that are presented to them. But avoiding the tough decisions that need to be made can paralyse a business, leading to lost opportunities. Here's some advice from small business expert Dr Greg Chapman to help business owners tackle the problem of indecisiveness.
Over at Australian Small Business Blog, Dr Chapman noted that while many bottlenecks like delays in issuing invoices or suppliers not honouring their commitments may create real costs for a business, being unable to make tough decisions in a timely manner could be even more costly:
---
Ohio's tax policy rated one of worst in U.S. for business
COLUMBUS — While Ohio has bragged about being open for business, a Washington-based tax policy think tank ranks the Buckeye State's business tax climate among the nation's worst.
The Tax Foundation, a Washington-based nonprofit research center, judges states on how well it believes their tax structures encourage or hinder economic growth. Its 2017 report ranks Ohio 45th, ahead of only Minnesota, Vermont, California, New York, and New Jersey.
Ohio trails all of its neighbors. Indiana ranks eighth; Michigan, 12th; West Virginia, 18th; Pennsylvania, 24th; and Kentucky, 34th.
"Ohio has done some good things in recent years, particularly in lowering the individual income tax rates," said Jared Walczak, policy analyst with the foundation. "But structurally, the state has a more complex tax code and one of the least neutral tax codes."
Ohio lawmakers and Gov. John Kasich's office have preferred to point to other business climate rankings, such as this month's latest from Site Selection magazine. The magazine gauges corporate opinions and tracks announced project sitings.
---