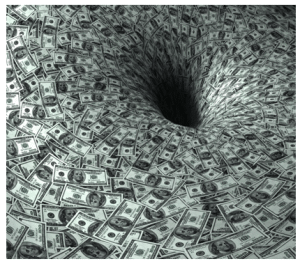 When the time comes for small business owners to finance a part of their business through a loan, things can get quite complicated.  Many banks – especially for small businesses- look into your personal finances to see if you have the credit and trustworthiness to hand you money. Personal credit scores and ending balances for the month in your checking account means something for the banks, and being aware of that fact can make your chances of getting a loan much greater.
For this and other stories, follow the links below.
---
The GOP says its business tax plan will help workers and small businesses. It won't.
Instead, it's a gift to people with lots of capital.
To understand the business tax provisions in the Trump tax proposals, begin with F. Scott Fitzgerald's insight that the rich are different from you and me — they have more money.
In particular, they have more capital. (Ever polite, economists call piles of money that have been invested "capital.") Business tax reform really is an exercise in how we should tax capital income — that is, returns on investments. And because the rich have lots more capital than do you or I, the benefits of the multitrillion-dollar business tax cuts proposed by the Trump administration's tax "framework" necessarily will be vacuumed up by the most affluent Americans. Business tax reform has only a modest connection to the economic future of working stiffs, and the small connection that does exist is a second-order effect.
---
Small business jobs hurt as hurricanes close retailers
NEW YORK — Hurricanes that swept the southern U.S. last month shut many retailers and put hiring on hold at small businesses.
That's the finding of payroll provider ADP, which said Wednesday that its small business customers cut 7,000 jobs during September. Many small and independent retailers in Texas and Florida had to close before and during Hurricanes Harvey and Irma, and many suffered significant damage from wind, rain and flooding. That slowed hiring, and employees at some stores were laid off. The Labor Department reported a jump in applications for unemployment benefits following the storms.
The hurricanes also curtailed overall hiring, ADP said, counting 135,000 new jobs at companies of all sizes, the smallest gain in nearly a year. Without the storm, hiring would likely have been closer to the average monthly pace of 185,000 for the last two years, said Mark Zandi, chief economist at Moody's Analytics, which helps compile the ADP reports.
---
7 Things About Funding Sources that Small Business Owners Don't Know — But Should
Getting funding for your small business is essential but not always as straightforward as you might think. Here are 7 things about funding sources you might not know about but should.
Small Business Funding Facts
You Need to Keep a Positive Ending Balance
Hanna Kassis works for Segway Financial. He says a small business should not only have money in a bank account before they apply for a loan, but a specific amount at month's end.
"Lenders want to see that you've got a positive ending balance," he says. "Say you're anticipating needing a merchant cash advance at the end of the month, go put $500 dollars in your bank account."
Your Personal Credit Score Affects Your Business Financing
---