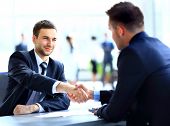 The Bureau of Labor Statistics' website gives you a clear idea of the United States unemployment rate in this country.  Certainly, it is the lowest unemployment rate for the last ten years in the United States and many economists predict the economy still has room to grow.
So, if employment is not an issue for many workers, what are some of the perks you can offer to attract and keep quality employees for your business?
Businesses across the globe understand that employees can make or break a business, which one do you want to be? What are some of the benefits you can include in hiring an employee for your business?
To read more about this and other stories, follow the links below.
---
The Smaller the Small Business, the Bigger the Insurance Discontent: J.D. Power
Not all small businesses are the same when it comes to customer satisfaction with their commercial insurance. There are actually widening satisfaction gaps among small businesses of different sizes, according to the J.D. Power 2017 U.S. Small Commercial Insurance Study.
The study found that the gaps in overall satisfaction among micro- (fewer than five employees) or smaller-size (five-10 employees) small businesses and larger-size (11-50) small businesses have never been wider. While there has been significant year-over-year improvement in overall satisfaction among customers in the larger-size group, there have been sharp declines in satisfaction among customers in both smaller-size groups.
"The small business market has been the best growth area for property and casualty insurance carriers in a stagnant, soft cycle marketplace," said Greg Hoeg, vice president of U.S. insurance operations at J.D. Power. "Our data shows that the small commercial market is still ripe for competition. While looking at the small business market in aggregate shows relatively steady levels of customer satisfaction year over year, the serious gap between very small businesses and larger small businesses could present an opportunity for those carriers that get the small business formula just right."
---
What Kind Of Small Business Employees Do You Need To Grow Your Company?
Many small businesses benefit from hiring employees. At some point, you may decide that you need more hands on deck at your company. When that time comes, you might not know where to start. You want individuals who will make a difference in business operations. What kind of small business employees do you need to grow your company?
Knowing what to look for in a candidate is not as easy as it might seem. After 30 years in entrepreneurship, I'll be the first to admit that looking for employees to hire can be tough. When hiring an employee, you need to know what characteristics to look for.
What Kind Of Small Business Employees Do You Need To Grow Your Company?
There are many different types of employees in a business. Companies have leaders, followers, go-getters, and employees who do the bare minimum.
You will have employees who struggle from time-to-time or lose motivation. Highs and lows are inevitable in life. But with the right attributes, your employees will use their skills to grow your company.
Whether you're hiring your first employee or ready to give a pep talk to your current workforce, consider the following characteristics.
---