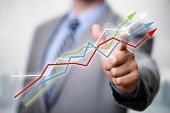 Small business owners across the United States are being careful after the dismal reports of hiring across the country.  They are holding off any hiring they may do, and are still reticent to make any moves that will put their financials in jeopardy.  Economic growth seems to be inching forward a bit slowly, and some small business owners are still holding off till elections are over.
To read more about this and other stories follow the links below.
---
Dear Donald Trump: I'm a Small Business Owner, and I Want More Regulation
We love the election-year attention but the presidential candidates are focusing on the wrong things
In election years, I love calling myself a "small business owner." It's the one time when the act of selling falafel, building a website or otherwise trying to make a buck comes off as heroic. We're the "backbone" of the economy, you know, and the "heart and soul of equal opportunity," as Fran Tarkenton told the Republican convention.
It's the season when politicians shower us with love and policy papers. Both Donald Trump and Hillary Clinton have put forward proposals to make our businesses great again, together. I prefer Clinton's, but mostly I think the election-year pandering to small businesses misses what really matters.
 Trump, like most Republicans, focuses on tax relief. He proposes lowering the top rate for pass-through business income to 15%. This doesn't move me. Why? My company doesn't earn enough for the proposal to make much of a difference, as is true for most small business owners. The lion's share of pass-through income is
earned by a small percentage
of businesses, which means wealthy individuals would catch a giant tax break while the majority of small business owners are unaffected.
---
Columbus, Ohio: A growing mecca for small business
In a prior life, Joe DeLoss worked as a banking analyst, but today, his day job couldn't be more different. DeLoss owns the wildly popular Hot Chicken Takeover in Columbus, Ohio, serving up Nashville Hot Chicken, a spicy style of fried chicken.
 But it's not the leap from banking to fast food that makes his story so interesting. It's the fact that his two-year-old restaurant is staffed by a nearly 50-person workforce that has largely experienced incarceration. Some employees have criminal arrest records, while others have served time for everything from misdemeanors to felonies. DeLoss admits they might be overlooked by other employers, but he's a firm believer in second chances. Make no mistake, though; it's no charity.
"We created Hot Chicken Takeover to be a fair chance employer. A large part of our workforce has been affected by incarceration in the past, but it's not what defines our future. We have a team that works harder, is more productive and more motivated than most people in our industry," DeLoss said.
---
 State lawmakers OK parental leave for small-business workers
SACRAMENTO — California parents who work for small businesses would be eligible for six weeks of job-protected leave under a bill heading to Gov.Jerry Brown.
The bill was among the myriad of proposed laws sent Wednesday to Brown on the final day of the two-year legislative session. Brown has until Sept. 30 to act on the hundreds of bills on his desk.
With Wednesday's adjournment, lawmakers concluded a year in which they raised the minimum wage, extended greenhouse gas reduction targets to 2030, added gun control measures and approved $2 billion in bond money for housing and treating mentally ill Californians who are homeless.
On a lighter note, lawmakers approved a bill Wednesday declaring denim as the state's official fabric under AB501 by Assemblyman Marc Levine, D-San Rafael.
---