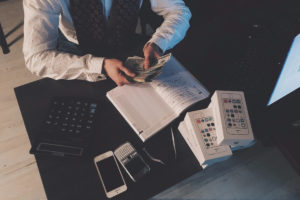 Some of the least enjoyable tasks a small business owner must do is managing their books or creating financial reports.  These chores can also be detrimental to the health of any business if they are not done properly or not done frequently enough.  With all the other tasks small business owners do on a daily basis, accounting should probably not be one of them.  There are too many pitfalls for a small business owner to perform their own accounting, and can prove to be financially irresponsible not to have an accountant  do them for them.
For more about this and other topics, follow the links below.
---
Survey: small business owners remain optimistic about growth
Small business owners are largely optimistic about their ability to grow business and raise revenue in the year ahead, mirroring Wall Street's sanguine outlook, according to a new index survey released Wednesday.
The MetLife & U.S. Chamber of Commerce Small Business Index produced a score of 60.6. That means 60.6% of small business owners currently have "a positive outlook for their company and the environment in which they operate," according to a statement from the insurance company and the business advocacy group, which plan to update the index every quarter. The survey was based on telephone interviews with 1,000 small business owners and operators.
A similar percentage of respondents, 60%, expect revenue to rise in the year ahead, compared to 9% who forecast a revenue decline. But they weren't as eager about boosting their payrolls. About a third of them said they plan to hire more employees, while a majority said they'll retain their current staffing levels.
---
Small business owner: Here's how not to be a starving artist
You live for your art. Every day, you paint or compose music or write short stories or make beautiful hand-crafted objects. But every day, you also need to eat.
If you aren't  engaging in your art just for pleasure, you're not only an artist, you're a small business owner. And if so, it's all the more important that you realize that starving artists don't actually last very long.
Here's a dirty little secret of successful artists: You have to plan on how to make money. Many creative types believe (wrongfully) that if they just pursue their art, the world will discover them, and they'll become rich, or at least they won't starve. If only that were true.
Whether you work for yourself or are hired by other companies, especially as a freelancer, here are five tricks to be smart about your art.
---
Voices 3 key small business questions CPAs must be able to answer
​Probably the number one question most clients want to know from their tax professional is, "How much do I owe?" But that's just the beginning for many small business clients who want their accounting professional's advice on a variety of business-related questions.
Being able to answer these key questions can help you build a richer relationship that can lead to higher client satisfaction, retention and referrals.
1. How is my business really doing?
Owning a small business can be a lonely proposition; entrepreneurs often feel that nobody really understands their business and the challenges it faces. Their accounting professional often comes the closest, and is someone who can provide real insights.
"I love asking my accounting firm what their thoughts are on my financials," said Allen Walton, founder of SpyGuySecurity.com. He's built a multi-million-dollar company in just three years, and worked with a bookkeeper from the beginning, but just hired a CPA last year. With such fast growth, he wants to know whether his business looks healthy and whether there are any areas of concern.
---