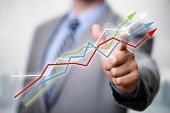 Even though the number of added jobs for the first quarter of 2017 was not what analysts were expecting, the fact that businesses — if not hiring yet-are compensating employees with higher wages or other type of incentives is good for the economy.
The optimism small business owners indicated were feeling at the beginning of this administration, has not translated completely to added jobs.  When the second quarter arrives, we hope to have a clearer view of added jobs that will boost the optimism of the small business owner for 2017.
To read more about this and other topics, follow the links below.
---
The best city for small business in America is not in Silicon Valley
New York City surpassed Silicon Valley to become the top city for small business, according to Biz2Credit's annual study of the Top Small Business Cities in America. New York's growth has been fueled by the booming real estate market and the construction industry, banking and finance (including fintech), and the city's thriving technology sector.
New York City overtook last year's small-business city leader, San Jose, the hub of Silicon Valley, which dropped to the No. 4 spot on the list. Technology companies in Silicon Valley are still thriving, but it's the supplementary companies that are faced with challenges of growing. The skyrocketing cost of living in Silicon Valley impedes the profits of many firms. Commercial rents, housing and labor costs weigh down non-tech businesses dramatically. Furthermore, taxes are higher in California, in general. Lacking that economic balance in the area has prevented San Jose from reigning as the leader in top small-business cities this year.
---
Small businesses hired fewer workers in April but gave their employees raises, Paychex survey shows
Small business hiring fell in April, but wages continued to rise for workers, a report by human resources firm Paychex said Tuesday.
The Small Business Jobs Index decreased 0.22 percent from the previous month to 100.50. The pace of small business employment growth is down 0.27 percent from a year ago, the company said.
"The decline in the April index mirrors what was reported last month by (the Bureau of Labor Statistics), which showed deceleration of job growth," said Martin Mucci, Paychex president and CEO. "At the same time, the wage report shows continued growth in both hourly earnings and hours worked over the past year."
The Bureau of Labor Statistics reported last month that nonfarm payrolls grew less than expected, but average hourly earnings were up by 2.7 percent on an annualized basis.
Paychex said national hourly earnings for the month were $25.67, increasing 2.73 percent, or 68 cents, from last year. Weekly earnings were up 2.92 percent from last year.
---
These 4 tips will help small business owners drastically boost their earnings this year
Whether you're running an established small business or just starting your journey toward entrepreneurship, it's safe to assume most business owners are on the hunt for new ways to grow their enterprise and improve their bottom line.
And we should all want to help them do so. Why? According to the Small Business Administration (SBA), small businesses create nearly 70 percent of net new jobs nationally, and drive tremendous growth in our local economies. When small businesses flourish, everyone wins.
My father-in-law is a small business owner. As a result, I have seen first-hand the sacrifices they make on a daily basis, and am driven to design products and provide resources to help small businesses meet their goals and fulfill their dreams.
 In honor of National Small Business Week, here are four ways small business owners (SBOs) can drive business growth this year.
---