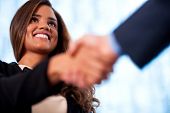 Minority owned businesses have increased over recent years, and the US government knows the important growth these businesses provide to their local economies, and the nation's economy  overall.  The increased in minority owned businesses have more than double compared to those of non-minorities nationally, and the City of Cincinnati, Ohio is now looking into promoting the inclusion of minority owned businesses for the State.  To read more about this and other topics follow the links below.
---
Ohio House Markedly Improves On Gov. Kasich's Budget Plan
Last week, Ohio House leadership introduced a substitute bill to Governor Kasich's proposed budget that would make many notable improvements to the tax plan. This is good news, because the proposed tax plan that came from the Kasich administration was deeply in conflict with itself.
The central element of the governor's proposal was to reduce the individual income tax, which Kasich argues has "sucked the vitality out of this state." The internal conflict, however, came from the revenue offsets the governor chose, which would have placed greater hindrances on, well, economic vitality. When first details emerged, I wrote on Forbes that the governor's plan may be a tax cut overall, but that doesn't make it good policy.
The governor's proposed hikes included an increase in the state's unique Commercial Activity Tax (arguably the most distortive tax in Ohio's code), a hike to cigarette taxes, new taxes on electronic vapor cigarettes, hikes in the severance tax, and a hike to the sales tax. When done correctly, tax swaps can reduce highly harmful taxes while offsetting revenue losses by leaning on less distortive taxes. The Kasich proposal, by contrast, leaned on economically distortive, nontransparent taxes to make the ledger balance.
---
Here's how Cincinnati is pushing for minority-business inclusion (Video)
---
Sorry, small business: Middle-market companies create most net new jobs
Companies with revenue between $10 million and $1 billion created 2.1 million out of the net 2.3 million new jobs added over the past seven years, according to an American Express/Dun & Bradstreet analysis.
Maybe it's time for politicians to drop their rhetoric about small businesses creating most of America's new jobs — since 2008, it's actually been middle-market companies that have driven job growth.
That's according to a new analysis from American Express and Dun & Bradstreet. It found that middle-market companies — businesses with revenue between $10 million and $1 billion — created 2.1 million of the 2.3 million net new jobs added over the past seven years.
Middle-market companies "have been the unsung heroes of employment growth," said Susan Sobbott, president of global corporate payments for American Express.
---