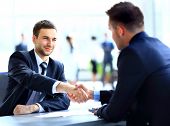 As a small business owner, do you offer health insurance to your employees?  Many businesses do not offer health insurance for their employees, and small business owners specially feel the pinch when offering health care coverage to them.  The Senate Health Care  Bill-if it passes-would alleviate some of the burden these small businesses feel, keeping in mind though that some other people would have to pick up the tab for it.
For more about this and other news, follow the links below.
---
Senate's Health Bill Would Make Life Easier For Some Small Businesses
Some small-business owners burdened with high health care costs would get a break via an obscure provision in the health bill proposed by the GOP Senate. The provision would offer less regulation, more bargaining power and better prices.
But those benefits could come at a cost to others.
The clause, included in the proposal advanced by Senate Majority Leader Mitch McConnell, R-Ky., last month, would exempt insurance policies sold through "associations" from most Affordable Care Act mandates and state regulations. To be able to offer these plans to their employees, small businesses join an association, which may be loosely based on certain types of professional, trade or interest groups that offers insurance to members.
---
New Senate Healthcare Bill Slams Small Business Owners And Savers
Senate Republicans today released version 2.0 of their Obamacare "repeal and replace" bill, the Better Care Reconciliation Act (BCRA).
This version of BCRA is a major lurch to the Left from the original BCRA and conservatives supporting this process have some things to think about.
A Tax Hike on Small Businesses and Savers
The major departure from the original BCRA is that v2.0 fails to repeal the 3.8 percentage point Obamacare surtax on capital gains, dividends, and other savings (the "net investment income tax," or NIIT). It also fails to repeal the 3.8 percentage point tax bracket for the self-employment tax and the payroll tax ostensibly earmarked for Medicare
In failing to do so, v2.0 of BCRA raises taxes by over $230 billion over a decade relative to v1.0 of BCRA.
---
US small-business optimism dips in June, remains near high
​A gauge of U.S. small-business confidence fell in June as business owners expressed frustration over gridlock in Washington, according to a National Federation of Independent Business report released on Tuesday.
The group's Index of Small Business Optimism fell to 103.6 last month from 104.5 in May, although it remains near its highest level in more than a decade. The index surged following the election of Donald Trump as U.S. president last November, and in January hit its highest level since December 2004.
The rise was largely attributed to business owners' optimism surrounding Trump's promises of deregulation, tax breaks and infrastructure spending.
But Congress' inability to deliver on those promises has muted confidence as business operators grow wary of political infighting over the health-care reform legislation, and prospects for tax reform are uncertain.
---