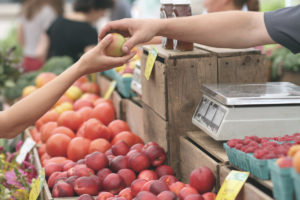 The United States Department of Labor said last week that claims for unemployment benefits fell by 14,000.  That means that the unemployment benefits claims in the United States fell down more than 8% from last year. The unemployment rate is 4.7 and according to economists that can be considered full employment, making it a nine-year low in the United States.
For more about this and other news, follow the links below.
---
Small Business Ombudsman 'fed up' with banks refusing to change their ways
Australian banks have plenty of critics, and now they can add the Small Business Ombudsman to that list.
Kate Carnell, who has authored a report released today into banking practices, has found lenders are not being fair when they enter into contracts with small and medium-sized businesses.
"Across the board the contracts that were in place between banks and small businesses [were] simply unfair," she told AM.
"Banks have all the power and the small businesses have no power at all and there need to be some change."
The ombudsman's report into banking practices has been released today by the Government.
It found that there is an unequal relationship between the banks and small and medium-sized businesses that borrow from them.
---
Local restaurants joining the coalition of Small Business United Against Hate
Mike Sherwood of Pizza Nea calls it "coming out of the closet for caring."
Small business owners have a conundrum that cuts both ways: They don't have the money or the clout to change laws or legislation the way big business does. All they have are their voices. But if they use their voices, certain customers could turn against them.
"It's a big risk," says Sherwood, who came out as proudly anti-Trump on his business social media pages early and often. "Minnesota is 50/50 [politically]."
But, as another small business owner put it in a grassroots meeting on Tuesday night, "Sometimes you just have to do what's right."
John Sugimura owns PinkU, the modern sushi restaurant that recently opened in northeast Minneapolis. He chose the name, which means "pink" in Japanese, because in that language, it also has connotations of "peace" and "democracy." He wanted to always gently remind himself of where he came from. Sugimura is a longtime social advocate and activist, but his recent conversion to restaurant owner has taken him out of his usual circles.
---
Hiring Rebound at Small Businesses in January, ADP Says
HIRING REBOUND: Small businesses more than tripled their number of new jobs in January, adding 62,000, according to payroll provider ADP. That's up from 18,000 in December, and in line with the average of more than 62,000 per month in 2016. ADP counted the number of jobs at its small business customers, those with up to 49 staffers.
Small businesses were part of an overall trend of stronger job growth last month. ADP reported that businesses of all sizes added 246,000 jobs last month, up from December's 151,000.
WHAT IT MEANS: The figures suggest that employers are hiring again after scaling back their payroll expansion in the second half of last year. The arrival of the Trump administration, which was welcomed by many small business owners, may have encouraged them to take some more of the risks they've been avoiding since the recession, including expanding their staffs. Many owners have said in surveys they're not willing to hire unless their revenue is strong enough to justify the added expense.
WHAT ELSE TO LOOK FOR: Employment reports later this week from the National Federation of Independent Business and the Labor Department will give different perspectives on job growth, but will nonetheless help reveal owners' sentiment about their companies and the economy. The NFIB surveys its members, while the government report will look at hiring across the private sector. It will not break out figures by company size.
---