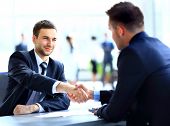 It seems that after so many months of uncertainty about the US economy, reports are becoming more encouraging for the US. A  Deutsche Bank strategist writes that in the last past two weeks the US market has surprisingly jumped into positive territory for the first time in almost two years.
With more jobs in manufacturing and services, the result should be a positive economic growth for the small business owner as well.
To read more about this and other  stories, follow the links below.
---
How These Entrepreneurs Are Living the Startup Life 24/7
If you occasionally get nostalgic for college – missing its around-the-clock access to homework help and social outlets — or if you're tired of the lonely business owner's life, you may be captivated by the idea of living with a group of entrepreneurs. But could you take the constant stream of ideas, the high energy, the 24/7 lifestyle? To some, such as Chandler Bolt, this living situation is nothing short of a profitable dream come true.
Bolt, the founder of Self-Publishing School, has lived in San Diego for the last year with four other super smart and motivated online entrepreneurs. The goal in creating the living arrangement was to create an intentional community of likeminded business people intent on improving every level of their lives – from physical to financial.
"I thought, 'Why not put five people in a house?'" Bolt, said. "I thrive best when there's work going on around me – knowing there's stuff always happening."
---
12 tips for creating a must-read business blog
Business owners, bloggers and online marketers discuss what small businesses can do to drive traffic to their blogs, increase their page views and keep readers coming back for more.
Too often business owners start blogging in the hope that it will drive traffic to their business, only to quickly fall into the trap of posting stale or sales-heavy content that gets no or few views. Then they become frustrated and either blog less frequently or abandon their blog, wondering why they bothered.
---
July Small Business Job Growth Is Positive, Paychex CEO Mucci Tells CNBC
Paychex (PAYX) CEO Martin Mucci discussed the country's July small business job growth, which slowed from last month, on CNBC today.